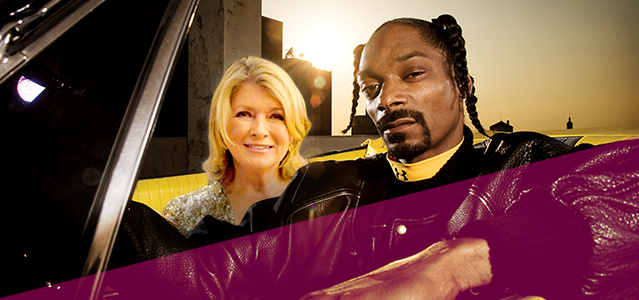 "I wish I were closer friends with Snoop Dogg." Flash forward from that 2014 Reddit AMA post by Martha Stewart, to today's surprise break-out hit on VH1, Martha and Snoop's Potluck Dinner Party. Lifestyle queen Martha and rapper Snoop are two distinct brands who understand customer experience (CX) relies on the power of partnerships.
The odd (yet somehow perfect) couple's new series is part cooking show, part dinner party, part reality TV, with an extra dash of self-aware irony. Together they create an experience their audience can't eat up fast enough. Fo' shizzle.
Partnerships: Love, peace, and harmony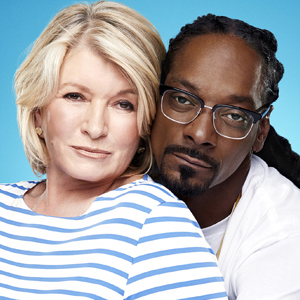 "I've never met anyone like Martha Stewart," Snoop recently told Rolling Stone. "When we come together, it's a natural combination of love, peace, and harmony."
Maybe not quite as tranquil as Snoop describes, but the show works. His oven is permanently set at 420 degrees (wink wink). Meanwhile Martha appears dignified even while boozing up her cocktail recipes enough to make Snoop wince, while their audience cheers.
Throughout their potluck shenanigans is an underlying mutual respect for what each host brings to the show. A Business Insider article, 10 insanely successful co-founders and why their partnerships worked, points out a similar common thread running through other legendary partnerships: "the most well-rounded pairs recognized their individual limitations and respected what the other could bring to a partnership."
Customer Experience: Partner up, then separate from the herd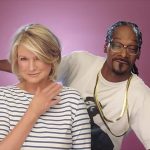 Last year a Gartner survey predicted a customer experience battlefield, with 89 percent of marketers expecting to compete mainly based on customer experience by 2016.
If you haven't made your customer experience a competitive advantage by now, there's still hope. What separates CX high performers from the rest of the pack is something you can start doing today, to ensure you have the skills and resources to wow your customers.
A June 2016 Forrester Consulting study commissioned by Accenture Interactive found partnerships to be one of the biggest factors that sets brands apart from their competitors. More than 80 percent of CX high performers believe they have identified and secured their key partnerships, versus only about half of other respondents. The Forrester/Accenture report says:
"Leveraging partnerships intelligently can ease much of the burden of transformation, allowing the company to focus on what they're good at and letting others fill in the gaps."
Partnerships that work are well-oiled machines. In a Fortune article, Huddle co-founder Alastair Mitchell pinpoints communication as the essential oil that keeps partnerships running smoothly:
"Today's business partnerships…(are) relationships developed from a consistent stream of communication that lets both parties deeply understand each other's priorities and provide better support where it's most needed."
Choose partners, not vendors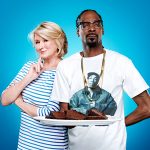 The right partners will help you kick some customer experience ass. That's our goal at Lightspeed, where we view our clients as partners. The Forrester/Accenture study supports this approach:
"Transactional vendor relationships aren't the answer. You need a small set of trusted partners that you can work with — partners that can help co-create strategy, drive innovation, and scale execution."
Likewise, when we decide on Lightspeed business partners, we choose specific areas of strengths and expertise that complement our own. Just like The Avengers (we're looking at you, Captain America). Or Super Friends (looking at you, Wonder Woman).
In 8 Critical Considerations for Choosing the Right Business Partner, Entrepreneur Magazine contributor and Cerius Executives CEO Pamela Wasley points out how important the Yin and Yang nature of partnerships is to business success:
"Make sure you and your partner's strengths are in different areas. If you have two people who are good at sales and no one who is good at executing on an operational level, it will be more challenging than you think. It is much better to bring someone in who will complement your strengths."
'Cuz that's how we roll
When Tenable Network Security wanted a buzz-worthy trade show booth, we partnered with developers and engineers at San Francisco-based Britelite Immersive to deliver Tenable Arcade, an immersive, arcade-themed customer experience. Gamers played onsite or online, to get on the right path to cybersecurity and stop the bad guys from getting in.
And what's an awesome event without the lights-camera-action of videos? When clients need professionally produced videos for their events, we partner with Raleigh-based Drawbridge Media for high-def visual storytelling, specific to our client's goals and brand. Those videos have been part of high-profile events such as Cisco Systems' annual Marketing Velocity for Cisco's own partner community.
The partners you choose for your business are a critical part of the customer experience you deliver. So take a cue from Martha and Snoop, and team with the partners who feel your vibe.
Post a comment to share your secret sauce for successful partnerships.