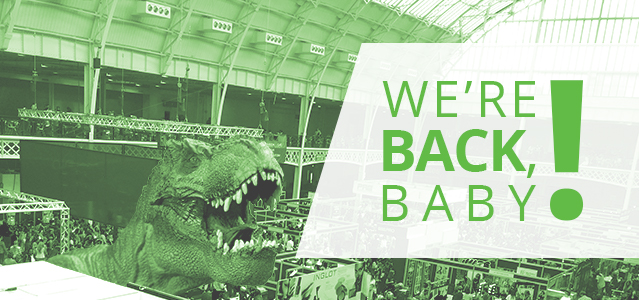 Seems like every year, someone wants to throw some shade at the mother of engagement and experiential marketing by asking the same old question, "Is the trade show dying?"
Aw hell nah.
Trade shows are back and more destination-worthy than ever. There's no better time than Build a Better Trade Show Image Week to spotlight the insights and trends for this time-honored institution. Soon you'll be wishing you were handing out swag to the pounding beat of techno music, in the prefab luxury of your exhibit booth.
These aren't your Grandpappy's trade show booths and sensory overload never felt so good.
'Build a Better Trade Show Image Week': We Didn't Make It Up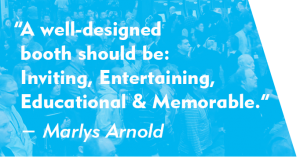 Build a Better Trade Show Image Week has been a thing since 1999. That's when exhibit marketer Marlys Arnold established the third full week of February as a time for her peers to focus on their marketing strategy. In 2002, she published a how-to book with the same name.
Fifteen years later, Arnold's booth design basics still hold true:
A well-designed booth should be: Inviting, Entertaining, Educational & Memorable. When designing the booth, make what you do and the ways you can help meet the attendees' needs (benefits) the most prominent elements… Give them a reason to buy from you."
Good advice, as you use this week to lock-in on the role trade shows play in your overall marketing plan.
Face-to-Face Engagement Is Still the Best Reason to Exhibit
Arnold lists several reasons to have a trade show presence: get qualified leads, introduce new products, gain media exposure and spend quality time with existing customers, to name a few.
We've found the face-to-face engagement is priceless – though the Center for Exhibition Industry Research (CEIR) has managed to put a price on it.
CEIR found it costs 22 percent less to contact a potential buyer at a show than through traditional field sales calls. That makes trade shows one of the most cost-effective ways to promote your company's products and services, and engage with the people who are likely to buy from you.
Castlight, a San Francisco-based healthcare information company, generated more face-to-face engagement with their booth re-design. The custom 30'×30' booth incorporated demos, games and other interactive booth design elements. This increased foot traffic, drove interest and helped attendees start asking how Castlight could help their business.
Lightspeed Marketing's list of the Top 10 Business Technology Events for 2017 highlights other brands who know high-quality content and unique experiences in the exhibit hall build mind share and grow market share. Ultimately, trade shows are where you create lifetime customers who want to engage.
CEIR shares similar themes in Rewind: A Look at 2016, which summarizes research insights for event exhibitors and organizers. CEIR's research found the quality of face-to face interactions with booth staff and the quality of product interactions drive repeat attendance, creating loyal alumni attendees.
Tradeshow Forecast: Sunny with a Chance of Breaking Records

Wondering about the future of trade shows? Just look at the stats.
The most recent quarterly results of the CEIR Total Index confirm trade show growth is up and mark the 25th consecutive quarter of year-on-year growth. Attendance, net square feet, exhibitors and real revenues (nominal revenues adjusted for inflation) all rose.
CEIR President and CEO Brian Casey says these results deliver:
An encouraging message that our industry is both growing and remains relevant across so many sectors. …We continue to maintain a favorable outlook for the coming year as well, which should be good for everyone's business."
The 2016 Index Report, which provides data from 2002 through 2015, shows the exhibition industry performance represents the fastest sustained growth in the history of the CEIR Index.
Here's just one example that brings those stats to life: The Consumer Electronics Show – which somehow manages to make the rest of Las Vegas seem subdued by comparison – marked its 50th anniversary in January with another record-breaking year. More than 175,000 attendees, 3,800 exhibitors covering 2.6 million net square feet of exhibit space, and over 6,500 members of the media (no fake news here!) celebrated all things consumer technology.
What Your Customers Really Think of Trade shows
Each year Exhibit Surveys, Inc. releases more than 50 of the latest benchmarks and trends for trade shows across all major industries. If you're still wondering whether to keep trade shows in your marketing mix, consider these survey findings:
"Nearly three-fourths of attendees said the value of attending is excellent / very good for the time and money spent.
Sixty-four percent of attendees aren't customers of the companies' exhibits they visited, making trade shows a great way to meet new prospects and generate new business opportunities.
More than half of attendees plan to buy products, solutions and technologies they see exhibited within 12 months after an event.
A word of caution: You're competing with many other vendors for attention, so avoid rookie mistakes. Marlys Arnold's book warns against being desperate, which is good advice not only for dating but also for exhibiting. Don't be the booth with staffers who "attack everyone in the aisles and send them scurrying away."
Help Your Customers Experience the Future (or the Past)
Creating a destination event means creating an experience. International Association of Exhibitions and Events (IAEE) Future Trends Task Force Chairperson Francis J. Friedman says:
Experiences are valued more than ever by those individuals attending exhibitions and events, including the 'content' of the event and possibly even more so, the 'contacts' of the event."
Experiences can be forward-looking, incorporating speech-bots, virtual reality and augmented reality. Or they can be nostalgic, generating engagement with an emotional connection.
When Tenable Network Security wanted a buzz-worthy trade show booth for the RSA Conference, Lightspeed Marketing partnered with developers and engineers at San Francisco-based Britelite to deliver Tenable Arcade, an immersive customer experience with a 1980s arcade theme. Gamers played onsite or online, to get on the right path to cybersecurity and stop the bad guys from getting in.
Exhibitors must keep upping their creativity and production value to engage in-person audiences. In the IAEE's 2016 Update: Future Trends Impacting the Exhibitions and Events Industry, Friedman notes:
As business-to-business marketing evolves, the range of different formats an organizer is able to produce must also expand. No one format can serve all the interests in a given market. An organizer will need to be skilled and flexible enough to produce event experiences, in various event formats, that will attract and hold a diverse and cross-generational audience."
No pressure, right?
You Don't Have to Go It Alone

Our experienced event marketing experts at Lightspeed have trade shows and other experiential marketing engagements down to a science. We can help you streamline the logistics of planning and executing your next event.
We'll also partner with you to produce the communications and creative elements that make your message cut through the noise, entice customers and engage more leads.Lightspeed Director of Events, Billy Matiernan says:
Producing a seamless experience is all about obsessive attention to details, combined with creative expression of what your customers care about. We deliver our clients peace of mind that every detail is anticipated and handled. When our customers realize events don't have to be stressful or time-consuming for them, we know we've delivered."
For more about event tactics, read:
Event Management – The 800LB Gorilla in the Room
For more about must-see events:
Top 10 Business Technology Events for 2017