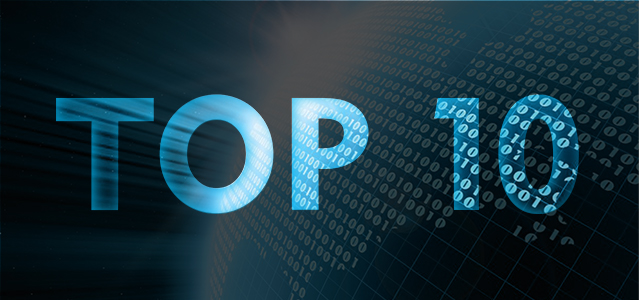 As 2017 gets rolling, we're looking ahead at our top 10 business technology industry events for the year. Even the most-experienced B2B event marketing pros take note when the events below come to town.
Through a mix of sizzle and substance the events below build mind share to grow market share. These brands know high-quality content and unique experiences create lifetime customers.
November 6-8, San Francisco
Tagline (2016): Be a Customer Trailblazer
171,000 attendees, 5,000 gallons of coffee served, over 91 countries represented, spread out over Moscone Center and 17 other venues – Wow. It's so big that Salesforce has leased a cruise ship, dubbed the Dreamboat, to supplement Bay area hotels and Airbnb rooms. Dreamforce sits atop B2B event marketing in scale and ecosystem engagement.
October 1-5, San Francisco
OpenWorld has been around for 20+ years and drew 60,000 attendees in 2016. One unique element of
OpenWorld is a mission to be the most sustainable conference in the world. The conference offset 100% of onsite emissions in 2016 and is aiming for a zero-waste goal by 2018.
Nov 27-Dec 1, Las Vegas
With cloud infrastructure high on the list for most enterprises and Amazon Web Services' leadership position, this is an event on the rise. 24,000 were estimated to attend at the 2016 event, a 26% YOY increase over 2015.
June 13-17, San Francisco
Technical and developer conferences are at the top of the list for many firms when it comes to building communities around a platform. Apple's Worldwide Developer Conference (WWDC) is a shining example of what engaged developers can do to build value for end users. Attendance is capped at 5,000 and allocated in a lottery system, adding an air of exclusivity. It also has a cool save-the-date landing page. Google I/O, Facebook F8, and Microsoft Ignite are also solid benchmarks for how to rally developer communities.
Bessemer Venture Partners and Salesforce Ventures bring together the top 100 private Cloud CEO for a top-shelf event to inspire innovation and features all-star keynotes. This more intimate and targeted event has the white-glove feel nailed.
June 13-15, Los Angeles
Tagline (2016): Inspiring New Worlds
E3 is the trade event for the video gaming industry. With virtual reality (VR) exploding mainstream and over 50,000 in attendance in 2016, a frontrunner on exhibits that employ leading-edge interactive experiences.
February 13 -17, San Francisco
Tagline: Where the world talks security.
RSA is a five-day conferenced focused on cybersecurity with 40,000+ attendees. After CES in January, RSA unofficially kicks-off the B2B event season.
June 25-29, Las Vegas
In 2016 over 28,000 turned out for the network equipment giant's annual marque user conference packed with educational sessions. The broad mingling of Cisco's channel, alliance, and technology partner communities create high-value for attendees.
July 22-27, Las Vegas
Black Hat drew 16,000 in 2016 and was spun out of the hacker conference DEF CON. In the bizarro world, cats and dogs are friends and hackers and the security industry collaborate for the sake of sovereign nation and enterprise security.
October 16-19, Las Vegas
McAfee's 2016 FOCUS event brought together 3,500 customers, partners, and employees. It was notable because the company launched both a large-scale rebranding effort and a book, "The Second Economy," that tied into the conference theme (also The Second Economy). Lots of moving parts for a marketing organization that were well executed.
---
Let the event marketing experts at Lightspeed help you streamline the logistics of planning and executing your next marque event. We'll also work with you to produce the communications and creative elements that drive home your message.
Stay in touch by following us on social media and tuning in to our blog.