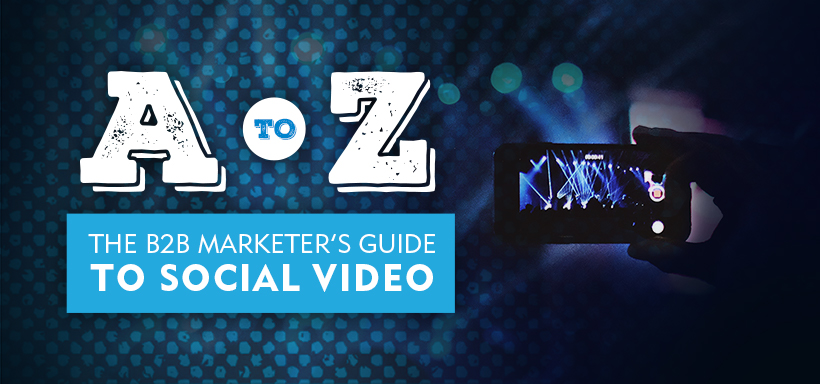 The first in our two-part series covered why you can't afford to leave professional video out of your social marketing plan. This week we're providing an A-Z guide with tips to get the most impact and engagement with your videos on social media – and elsewhere.
First you invested in a professionally produced video as part of your marketing or event strategy. Next you showed it to an appreciative audience, then posted it on your company website. Maybe even on YouTube.
There's so much more you can do.
Video marketing on social media will increase your ROI from an otherwise one-and-done item on your marketing checklist. Lightspeed Managing Director Rob Johnson says:
Our clients can come to us not only to produce great videos for their event and marketing needs, but also to help them with a thoughtful strategy to get the most mileage and impact from those videos. That means being savvy with social."
Use our A-Z guide to improve your video reach, engagement and conversions, while adding thumb-stopping visuals and impact to your social channels.

Autoplay
The major social channels offer an autoplay feature so you can set your uploaded video to automatically play as viewers scroll through their feeds. This can boost views, but many viewers find this feature with audio super annoying. Best practice: autoplay without sound.

Behind the Scenes
Social viewers want an insider's take on what happens behind the scenes. Whether it's backstage footage from your company events, or the clever things that go into the products your produce, post behind-the-scenes videos on your social platforms to make your viewers feel invested in your brand.

Branding
Brands are embracing video marketing to engage with customers and prospects. Good thing, since 85% of people say they'd like to see more video from brands in 2018. Bestselling author and Entrepreneur VIP Contributor David Meltzer says brands should use short-form video as part of their content strategy:
The more you document what is relevant to your brand or your philosophy, the more connections you will gain. The more connections you have, the more relationships you will build."

Captions
People watch most social videos on mobile devices with muted audio. Use easy-to-read captions and subtitles in your videos to get viewers to stop scrolling and keep watching.

Call to Action
Don't let engagement with your brand end when the video stops. Always encourage your viewers to take the next step, whether it's to visit your website, request a free consultation or stop by your event booth.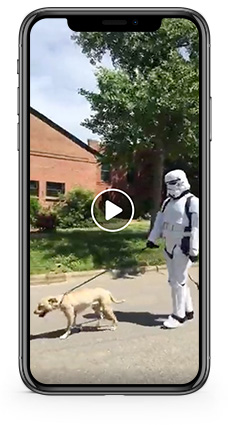 Day-in-the-life Video
Day-in-the-life stories show your followers a new dimension to your brand. Subjects in these videos can be employees, types of customers – or even a Stormtrooper walking the dog.

Email Campaigns
Use video to make your email marketing campaigns more successful. The word "video" in an email subject line boosts open rates by 19% and click through rates by 65%. Use a screengrab or thumbnail image in the body of your email, which the recipient can click to view the video on your campaign landing page. A video on a landing page can increase conversion rates by 80%.

Explainer Video
Help audiences understand a big idea, industry topic or product capabilities with an explainer video. Listen to your customers to learn some of their most common problems, then post an explainer video to help solve them.

Facebook
Facebook claims more than 8 billion daily video views, and brands are wanting their share. The platform favors native-hosted video, so upload your video directly to Facebook for better organic reach and higher engagement. Keeping the length to one minute also helps, and what you show in the first three seconds is critical. Facebook research found 65% of people who watch the first three seconds of a video will watch for at least 10 seconds, and 45% continue watching for 30 seconds.

Goals
Get executive buy-in (and budget) for your video marketing strategy by agreeing on what you want to accomplish. Whether it's product awareness, engaging followers with your brand or moving prospects further down the sales funnel, your goals will define your focus and keep your team on track.

How-to video
Use how-to videos to build brand awareness and thought leadership. Showing your brand as a source of helpful advice and expertise also can build trust. Keep it simple and don't use show-offy jargon. If the topic or process you're tackling is complex, break it down into a series of short how-to videos.

Instagram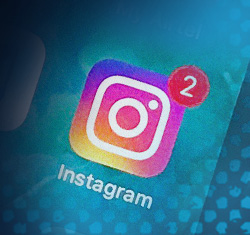 When Instagram launched videos posts in 2013, users uploaded 5 million videos in the first 24 hours. Among marketers, 41% have used Instagram video, and of those, 78% found it to be an effective strategy. Instagram videos and video ads can be up to 60 seconds long, but the ideal length to drive engagement is 30 seconds, according to HubSpot. In June 2018, Instagram announced IGTV, a new app to compete with YouTube that lets users create standalone video channels for long-form video (up to an hour long).

Instagram Stories
More than 250 million active users view Instagram Stories every day. Multiple photos and videos can appear together in a slide show gallery. Although they have only a 24-hour lifespan, use Instagram stories to give viewers a taste of your brand with behind-the-scenes footage or clips of how your product can make their lives easier.

Journey
Consider which types of video perform best for each stage of the customer journey, from awareness of your brand to deciding to purchase your product. By offering the right sequence of videos, you can move individual prospects down your sales funnel. Case study videos help build confidence in your product and services during the consideration stage. Videos promoting valuable offers from your company can help convert prospects to customers.

Keynotes
Your executives are in demand as keynote speakers? Great! Just don't send them in front of an audience with nothing but PowerPoint slides. Have your exec tee up one of your company videos to mix up the format and keep audiences interested. Before or after the talk, record a quick back-stage interview to post on your social channels.

Length of Video
Video engagement varies among the social platforms, and the length of your video is a deciding factor. HubSpot offers this infographic guide on the ideal lengths for Facebook (one minute), Instagram (30 seconds), Twitter (45 seconds) and YouTube (two minutes).

LinkedIn
B2B marketers are using LinkedIn to reach a professional audience, showcasing brand videos, customer testimonials and product launch videos on LinkedIn company pages. LinkedIn video ads are another option. More than half of marketers said they would continue, or start, to share video content on LinkedIn in 2018.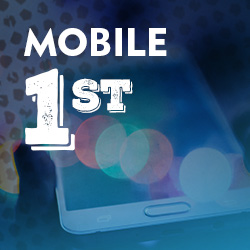 Mobile-first
Video plays on mobile topped 60% globally for the first time during the fourth quarter of 2017. With mobile video viewing continuing to rise, taking a mobile-first approach is a smart practice. View your website with a mobile browser to verify all your videos look and play as beautifully as you intended.

Native Video
Rather than linking to videos hosted on other sites, native video is uploaded to or created on social networks and plays within the viewer's feed. Social algorithms tend to favor native video, increasing your video's reach and engagement.

Overview Video
A company overview introduces audiences to your brand and is useful during the awareness stage of the customer journey. The company overview video also sets the tone for your other video content.

Product Video
These can take the form of overview videos, which are useful for product launches. Other product video formats that perform well on social channels include how-to demos or behind-the-scenes peeks that give audiences a new way to think about your product.

Promoted Ads
Use social advertising to give your video a boost in visibility, which will make up for the fact that organic reach is down across the major networks. Sprout Social offers this free Social Media Advertising and Paid Social Guide to cover the basics of social advertising, types of ads and ad specs for video and other formats.

Q&A Video
Post videotaped interviews with subject matter experts on social channels, or share them with customers via email. If the interview is lengthy, you can break it down into individual questions and responses for a series of social posts.

Re-cap Video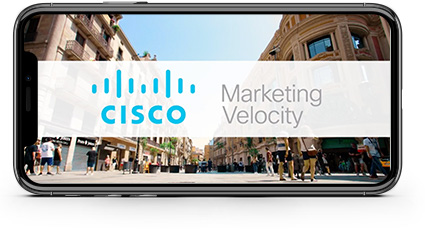 Don't limit your event highlight reels to a slot on your event's last-day agenda. Your social followers will enjoy watching, too, and wish they had joined in the fun. Our friends at Drawbridge Media produced this re-cap video for Cisco Marketing Velocity 2018 in Barcelona.

Strategy
Your social video strategy should be part of your content marketing strategy. Consider the optimal length for engagement on each social channel (See "Length of video.") Be thoughtful about which type of video you serve to your prospects, depending on where they are in your sales funnel. (See "Journey.")

Testimonials
Customer testimonials build confidence and trust in your brand by capturing real customers, real emotions and real-life uses of your product. Use these videos on your website product pages, email campaign landing pages and on social networks.
Updates
Consider all the ways video content can keep your social followers informed. Videos about new industry trends, product announcements and upcoming events are just a few of the ways you can engage people with your brand.

Visual Images
Our brains love visual cues, and the movement, colors and multi-sensory aspects of video stimulate our brains. When we hear information, we're likely to remember only 10% of it three days later. But if a relevant image was paired with the same information, then recall jumps to 65%. Use creative visual storytelling to help your audience quickly understand and connect with your message.

Webinar
Webinars are among the best performing types of content for the conversion stage of the customer journey. Prospects can experience your brand's expertise first-hand. Videotape your next webinar and post teasers on your social channels, encouraging followers to sign up to watch the full playback for free.

X-post
Short for cross-post, which is what you do when you post the same content piece to multiple locations. With video marketing, be sure to modify the lengths and types of videos you post to be optimal for each social platform.

YouTube
For best engagement on YouTube, keep your videos around two minutes in length. How-to-videos, product demos, Q&A interviews and other in-depth content perform well here. Keep uploading videos to your YouTube channel – and to Instagram's recently announced IGTV – so your audience will associate your brand as a source of useful content.

Zen
The enlightened experience you have when you Find Your Zen in the Golden Age of Video Marketing.
---
We produce visually spectacular videos that connect audiences to your brand. Let's talk about how to make the most impact with your video marketing using a strategy that includes social media. Contact us at [email protected].
Stay tuned for our follow-up blog with tips you can use to get the most impact and engagement with your videos.
Related: