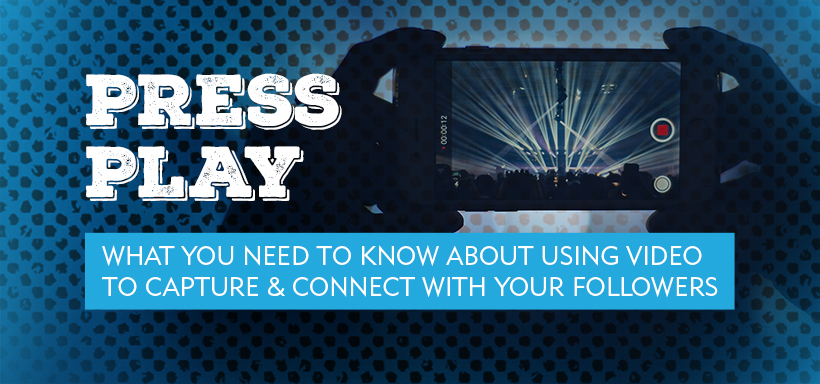 Remember the old-school days of social media? You couldn't wait to check your feeds for quaint texts, static images, and the same over-used GIFs.
Now old school has given way to the new rule: If you want your brand to capture attention, connect with your followers, and convert them into buyers, you need video. Without it, your social marketing toolbox is incomplete.
As for production value, sometimes DIY videos are fine. There are plenty of posts out there to tell you how to create them with limited resources.
But we're talking about the other times, when the importance of your message or the audience you want to reach warrants the investment in a professionally produced video. One you can share on your social channels as well as on your website, at customer events, tradeshows, or as part of executive keynotes.
Here's what you need to know.

Since the dawn of funny cat videos, videos are by nature highly shareable. They evoke emotion that makes viewers want to share with their friends and followers.
We've even reached the point when social media users' appetite for video seems insatiable.
Notice this shift to video on several social platforms:
Hootsuite's Social Media in 2020 reports 56% of internet users watch videos on Facebook, Twitter, Snapchat, or Instagram each month, and says social video "is quickly moving from being an algorithmic advantage to a table-stakes tactic."
Brands are taking notice, wanting not only to capture attention but also build a more meaningful connection with their followers. Social Media Week shared this key takeaway from Animoto Chief Video Officer Jason Hsiao's keynote at Social Media Week New York:
Video shared on social media is the most effective way to convey the most authentic version of you and your brand. Authenticity equals trust."
If authenticity and trust sound a bit too serious for you, brands also are using humor. In advance of Harry and Meghan's Royal Wedding, Velveeta released A Royal Guide to Being A Princess (#RoyallyTreatYourself). The tongue-in-cheek social video encouraged followers to win a limited-edition box of Velveeta Crowns and Cheese.
You know, for when only crown-shaped pasta will do.
---

When you consider video's recall value and highly shareable nature, you can see why more than half of marketing professionals worldwide name video as the type of content with the best return on investment.
Your customers already know the power of video on their buyer's journey. A whopping 96% of consumers say videos are helpful in making purchasing decisions, according to research by Socedo. A recent Adweek study found 70% of B2B buyers watch videos on platforms like YouTube, Twitter and LinkedIn along their path to purchase.
Considering video's ROI, Forbes Contributor Mike Templeman says:
Videos have a compelling way of fostering engagement, yielding results like click-throughs, shares, lead generation, and sales. It is indeed one of the best tactics to bring more exposure to your brand while helping you achieve your bottom-line."
Video also gives greater reach to your social posts. Thanks to those shifty algorithms we all try to crack, some social platforms such as Facebook give higher priority to videos over other types of content.
In addition to more views on social, video also generates more engagement with your content. Libris and The Content Strategist surveyed nearly 600 marketers and creative professionals and found the type of visual content driving the most engagement for their companies is custom video. But the majority also cited custom video as the hardest content to produce.
That's where professionals can help.
---

Specific pricing depends on the details, but generally a professional video can range from four to five figures – from completely animated and/or stock footage videos to full production, with actors and the works.
Before deciding about custom video, consider the ROI as well as what you get for your money. A lot goes into producing a quality video that you couldn't produce yourself, including many of the following elements:
Pre-production, including nailing the concept and theme, identifying the video requirements, selecting interviewees or professional talent, scouting locations and preparing shot lists, storyboarding and scripting, hiring additional creative talent if needed, meeting with interviewees and preparing interview questions, choosing specialized equipment and software, and sourcing music and sound effects.
Production, including video shoots of all shot lists with a director and appropriate crew.
Post-production, including reviewing raw video, transcribing and selecting sound bites, final scripting, editing, motion graphics and animations, cycles of reviews with the client, making additional changes, finalizing, and creating digital files.
All of those services involve a producer with the value-add of understanding your marketing strategy and the broader context of your message.
And of course, there's the time involved. Like Benjamin Franklin said, time is money.
What do all of those elements get you? For an example, check out the 2018 Triangle American Heart Association (AHA) Go Red For Women Survivor Video. We produced it in partnership with Drawbridge Media and the AHA, as part of our sponsorship of the AHA's 11th Annual Triangle Go Red For Women Luncheon.
---

Video is a powerful medium that engages your followers, increases traffic to your website, and helps customers make purchase decisions. That's why Social Media Week calls the "play" button the most compelling call-to-action on the web right now.
Can you afford to leave professional video out of your marketing plan?
---
We use video to convey emotion and mood while delivering your message in a visually spectacular format. Contact us at [email protected].
Stay tuned for our follow-up blog with tips you can use to get the most impact and engagement with your videos.
Related: