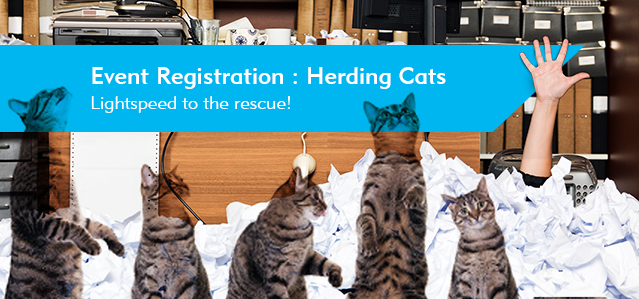 We've all had them. Days that feel like you're herding cats, in a near-futile attempt to manage slippery and unpredictable forces.
If that describes your day, we're sorry, you deserve better. On the plus side, there's a day in your honor: December 15, National Cat Herders Day.
This special date made us think of the challenges of event planning – more specifically, event registration. Slippery and unpredictable? Yes, but it doesn't have to be.
We tracked down Bryan Meyer, Lightspeed's head of event operations and registration management, fresh off his most recent red-eye flight from a customer event. What better time for an interview, we thought, as we asked for his cat-herding-whisperer insights into making event registration simply the cat's meow.
The term "event registration" sounds deceptively simple. What makes it such an important part of overall event planning?
Event registration is the first and last contact your attendees have with your event, so you've got to get it right.
Our initial attendee outreach guides them through a digital experience to register not only for the overall event, but also specific sessions and even off-site activities. We collect payment, match them to the right housing choices, learn their dietary preferences for menu planning, gather their shirt sizes for giveaways and collect other data to shape and personalize their event experience.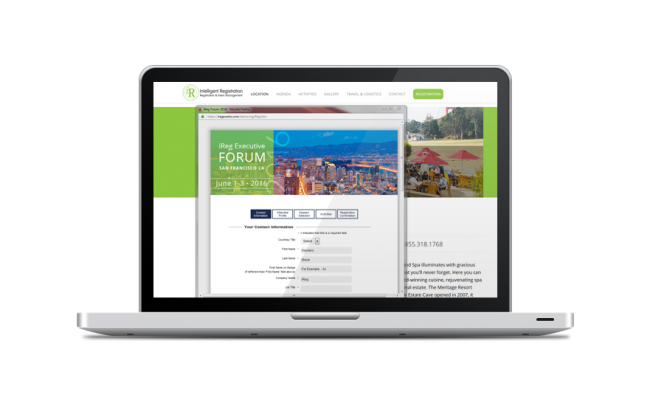 During the event we ensure a smooth check-in and badging process, and we can manage transportation to and from airports and off-site sessions. We offer a tier of services that can include a customized mobile app for your event.
Our final contact is thanking your attendees, asking for their feedback and linking them to information for next year's event.

According to Gartner CMO Spend Survey 2016-2017, customer experience is the top area of innovation pursued by marketing leaders. How are you innovating with all that data you're collecting?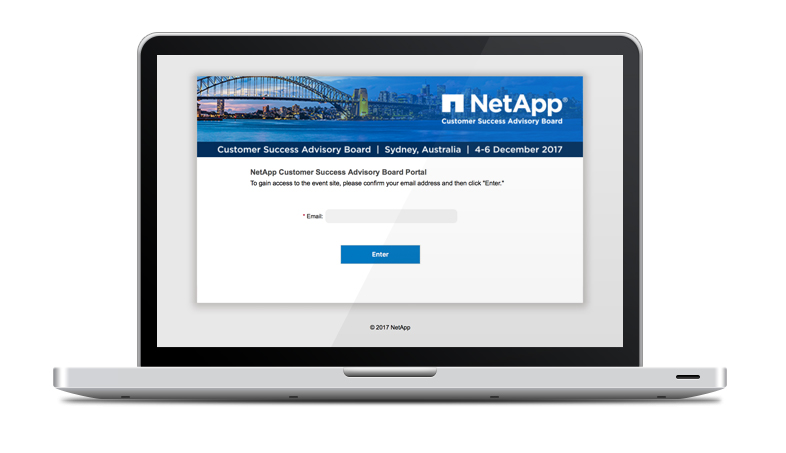 We use data not only to manage the event logistics, but also turn data into a customer experience that brings people back.
We personalize an individual's experience based on demographic data. For example, if you're a partner rather than a customer, you want a different type of event experience. We can automatically serve up a partner-focused invitation and landing page, along with session choices tailored to partners and their areas of interest.
Meanwhile, customers or employees would have their own customized experiences for your event, based on their data.
What registration pitfalls should event planners avoid?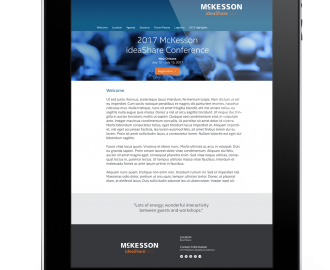 First, recognize the importance of the event registration experience. There is no one size fits all, so customization is key to deliver a seamless and unique experience for each attendee.
Don't get too cute and complicated with your badging process. Picking up event badges needs to be as simple and fast as possible for your attendees. A crazy, 45-minute check-in process will leave a bad taste for the whole event.
Beware of registration providers who focus just on quick deployment and collecting credit cards. You want professionals who create a rich, seamless experience that adds value to your event.
Whether it's an event of 5,000 attendees, or an advisory board meeting with 50-100 participants, you want the same level of service and attention to detail.
What does the best event registration experience get right?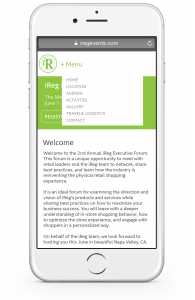 Your registration process should be simple and easy for your attendees, and a valuable tool for you to create a memorable customer experience.
Our data collection and reporting give you the insights you need – everything from ensuring you have the right beverage quantities and a menu your international guests will enjoy, to having the right jacket sizes for an outdoor activity when the weather goes bad.
Part of our mission is to make event registration engaging and fun versus a pain in the ass that you dread.
What's the best kind of feedback you receive for event registration?
Our event feedback surveys include event registration questions – was it simple and easy to use? Was it easy to make changes? We've consistently received grade "A."
We also love to hear we made our clients look good and they can't wait to work with us again.
The feeling is mutual.

Planning an event? Contact us at [email protected] and see how your event can be an experience that brings people back again.

Related: