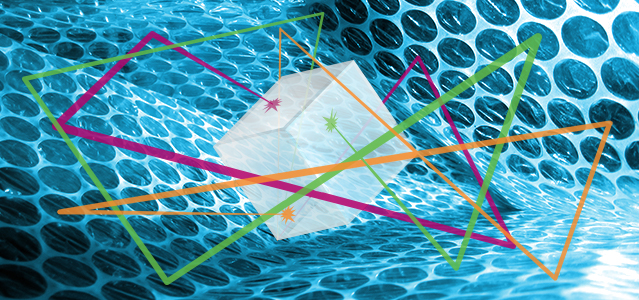 Ahhh, the sweet simplicity, reliability and guilty pleasure of Bubble Wrap®. A no-frills product that does what it's supposed to do – shipping all the crap we want, when and where we want it. But wait! What you don't know about this pop star could change your approach to innovation, disrupt (in a good way) your event marketing, and start a collective kumbaya across what divides us as humans.
Let's talk about National Bubble Wrap Appreciation Day, held on the last Monday of January since 2001. What better reason to drop some knowledge about why Bubble Wrap we love you so?

#1 Bubble Wrap's story teaches us innovation isn't a straight line from idea to jackpot. Some detours along the way make the payoff even more satisfying.
Wallpaper may have made a comeback among today's interior designers, but there was no love for Bubble Wrap in its original intended form. Back in 1957 (the historic year Elvis bought Graceland), inventors Alfred Fielding and Marc Chavannes sealed two shower curtains together with air bubbles trapped inside to produce what they marketed as textured wallpaper. While that could have been an oh-so-fly addition to Graceland's Jungle Room, the late-1950s Father Knows Best crowd wasn't buying it.
Not to let one failure get them down, Fielding and Chavannes stopped pounding their heads against their cushioned wall and re-branded the product as something really sexy: greenhouse insulation. Surprisingly, this too lacked pop-ular appeal (sorry, not sorry).
Then, a few years after the still-determined duo founded Sealed Air Corporation, came the game-changer. One of the company's innovative marketers, Frederick Bowers, pitched the perfect marriage of inflated cushioning and fragile equipment. Bubble Wrap found its true calling.
According to Sealed Air company legend, Bowers showed IBM how Bubble Wrap could protect the components of IBM's newly launched 1401 computer during shipment, nestled in dreamy air-cushioned comfort. Given the dawn of mass-produced business computers and the need to ship the expensive gear, the timing of this third-time's-a-charm purpose was perfect.
Innovation lesson:  Don't dismiss what seem like bad ideas. Build on them, re-invent them and help them find their way to greatness. That's what Bubble Wrap and other brands did:
Coca-Cola started out as a cure for morphine addiction.
Listerine was originally invented as a surgical anti-septic.
Play-Doh was first used as a wallpaper cleaner. (We're sensing a wallpaper theme here.)
Silly Putty first hatched not from little plastic eggs, but from an attempt to make an alternative to rationed rubber during World War II.
---
#2 Bubble Wrap will securely deliver the gear for big trends in event marketing including virtual reality, augmented reality – anything to immerse attendees in an experience.
Event marketing is big business and a big investment, representing the largest chunk – often 21 to 33 percent – of most marketing organization budgets. The value for brands includes lead generation, customer engagement and ultimately sales, as shown in a recent UBM survey of North American IT and business professionals. The survey found:
80 percent of attendees have visited an exhibitor's website after attending an event, and 55 percent have purchased a product or service based on information they gathered at a trade show.
The challenge? Getting event attendees to look up from their smartphones long enough to bask in the event experience.
Brands have to step up their game. While more B2B organizations are investing in physical events, according to recent Forrester research, only 4 percent believe they are "advanced in their use of event-specific technology to manage and enhance attendees' experience."
That's analyst-speak for saying most B2B brands don't believe they are making the most of technology to wow audiences with a must-see event. Enter immersive and "heads up" (rather than heads down) technology to the scene.
In 5 Things to Expect from the Event Industry in 2017, event platform company Eventbrite notes Virtual Reality and Augmented Reality are becoming more mainstream to create a richer event experience. Among those predicting VR and AR will have a major impact on the events industry is Jason Allan Scott, The Eventrepreneur (yes, that's a thing) and one of the event industry's Top 100 movers and shakers. Scott says:
"Virtual reality (VR) and augmented reality (AR) will transform the way individuals interact with each other and with software systems creating an immersive environment that will bleed into immersive events."
Bubble Wrap comes to the rescue for event planners everywhere by protecting all that tech gear in shipment.
Digital immersion can mean a bigger payoff for B2B events, according to Forrester VP and Principal Analyst Laura Ramos. She says:
"(M)arketers can use technology and digitize content to shift live events from point-in-time activities to the centerpieces of ongoing customer interactions. Events also provide an exclusive time to engage an attentive audience and inform your greater marketing strategy."

Immersive bells and whistles not your thing? Don't stop bubble wrapping gear for even basic technology demos at your event. The UBM survey found 69% of IT pros are more likely to engage with a vendor if they have tech demos at their booth.
Demos, games and other interactive booth design elements helped Castlight, a San Francisco-based healthcare information company, create an event experience more immersive and informative. Castlight's booth re-design increased foot traffic and engagement with event attendees. Samantha Goldman, Castlight Director of Content and Branded Experiences, says:
"The booth creative and structure design made it easy for people to understand who we are and what we do. …Previously, we spent most of our time explaining what Castlight does rather than how Castlight could help."
Marketing lesson: Events are a beautiful thing, if done right. Use interactive and immersive booth design and technologies to entertain, inform and engage with your current and potential customers. Rest easy knowing Bubble Wrap will safely deliver the goods so you can create not just an event, but an experience.
---
#3 The simple pleasure and therapeutic benefits of popping Bubble Wrap cuts across borders, generations, doctrines and anything else that divides us.
Bubble Wrap brings out the universal kid in all of us. Who hasn't received a shipped package, only to set it aside for a few gratifying seconds of bubble popping. This shower curtain descendant brings stress relief to millions of minds and fingers exhausted from daily texting, scrolling and multi-tasking.
The instant gratification of popping Bubble Wrap even has science behind it. Kathleen M. Dillon, a psychology professor emerita at Western New England University, conducted Bubble Wrap experiments with undergrad students back in the early 1990s. The study concluded popping Bubble Wrap reduces stress and brings higher levels of calmness and alertness. Who can dispute that?
Other universities including the University of Illinois at Chicago offer a Bubble Wrap room as part of finals week to help students deal with the stress of exams. The product's appeal even got a nod last year from the National Toy Hall of Fame, which selected Bubble Wrap as one of 12 finalists.
Leave it to TV talk show host Jimmy Kimmel to sum up our fascination. Introducing Guillermo Rodriguez's ride on a Bubble Wrap bike on last year's Bubble Wrap Appreciation Day, Kimmel said:
"Bubble Wrap is one of the simple, unexplainable pleasures of life."
Life Lesson:  The simplest of life's pleasures – like mood-altering Bubble Wrap – are the ones that can unite us. Our event team has used Bubble Wrap to ship event gear and giveaways around the world, as far away from our Raleigh, North Carolina headquarters as Bali, Indonesia. From our experience, the only thing that can stop the power of Bubble Wrap across borders is the power of customs officials. Rumor has it we've had 12 iPads in customs in London since 2013.
Bubble Wrap Appreciation Day Bonus Features:
* Bubble Wrap is a trademarked brand of Sealed Air Corporation.
 
Post a comment to share your thoughts on innovation, event marketing and/or Bubble Wrap.