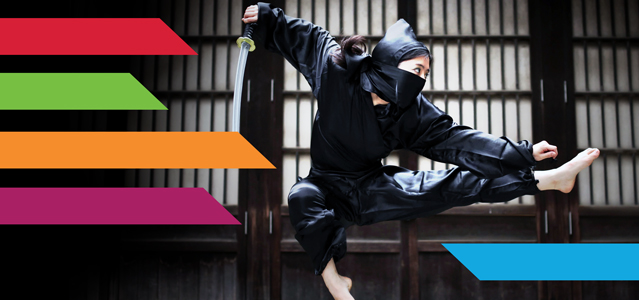 We've waited all year for International Ninja Day, and it's finally here! Get badass with these ninja skills to make your marketing worthy of legend.
Who cares if celebrating December 5 as the Day of the Ninja started from a parody website. Or that it helped promote a Tom Cruise samurai movie. It's still a day celebrating all things ninja. That's rad. Plus, we've been looking for an excuse to add "Ninja" to our job titles.
Now act cool, strike a tiger pose and soak it in. Ninja marketing wisdom all up in here. (You don't even have to read the Ninja Burger Honorable Employee Handbook.) We'll keep you focused by honing in on four key disciplines – events, creative, marketing and communications. Which just happen to be the core areas of our work at Lightspeed. Go figure.
 1. Tame events with mental preparation and anticipation of every detail.
A study by the CMO Council and the Exhibit & Event Marketers Association showed nearly 90% of marketers say events hold some level of importance and value for their organizations, with almost one-third considering them essential.
But no one says producing events is easy. In a recent Bizzabo study, nearly half of event managers find curating content and building the agenda to be event planning's biggest pain in the ass (okay, the survey used classier words like "pain point" and "challenge," but we know what they meant).
From sourcing a venue, to staffing an event, Lightspeed Event Ninja Billy Matiernan reveals the shadow skills he uses to produce a seamless experience:
 Ninja are stealthy, prepared and you won't even know they are there unless they want you to know. It's the same way we handle events. We are in the shadows delivering our clients peace of mind that every detail is anticipated and handled. We liberate them from the time, cost and stress associated with event management."
For more about event tactics, read: Event Management – The 800LB Gorilla in the Room
---
 2. Be relentless in creating knock-out visual content marketing and branding solutions.
Creative visuals are an essential part of branding and content marketing. (Admit it – would you enjoy this ninja star-worthy blog as much without the visuals?) Almost two-thirds of North American senior marketers believe visual assets, including photography, illustrations, infographics and videos, are core to their brand story communications, according to a study from the CMO Council and Libris.
No longer an afterthought, visuals are now THE most important type of content for 40% of B2C marketers in a 2015 industry report.  Factors such as quality, creativity and relevance to your audience can increase or undermine the impact of visual storytelling.
Lightspeed Graphic Design Ninja Laura "The Tanz" Tanzini breaks it down for us:
You never see a ninja strolling in through the front door. A ninja has thoroughly surveyed the scene and engineered a creative solution to accomplish the mission. Our partners count on us to unify their strategy and personality into creative resolutions. And they want it done quickly, with results that knock you out. Like a ninja. Ninjas knock people out."
For more about creative solutions, read:  Right Place. Right Time.
---
 3. Balance your passion with discipline while expanding and polishing your skills.
Digital marketing, analytics, real-time data – if the growing complexity of modern marketing gives you a holy crap moment, you're not alone. A whopping 84% of marketers believe the level of complexity faced by marketing professionals over the next five years will be high (55%) or very high (29%), according to the latest Forrester/SoDA Global Digital Marketing Outlook.
In the face of these demands, where do marketers think they have the most significant skills gaps? User experience and executive management tied at the top of that list in the Forrester/SoDa report. More than one in five marketers claim "major" talent gaps in those two areas in their organizations.
The lesson: train with the discipline of a ninja to make your mad skills outpace your competitors.
We turn to our Lightspeed Ninja King Rob Johnson for his views on blending passion, precision and training:
As marketers, we share traits you might associate with ninjas. We have to adapt on the fly. Our clients' ever-changing needs, even mid-project, dictate it. And like ninjas, we continue to train. Sharpening our expertise and skills to stay at the top of our game. Lastly, discipline. We remain true to our values and doing what is right for our clients." 
Read how to do right for your customers: Is This Election Over Yet? 5 Useful Take-A-Ways To Improve Your Customer Experience.
---
 4. Power your PR impact with outcome-focused communications.
Don't fall into the trap of thinking that being busy is the equivalent of crushing it. Zenith EVP and Head of Innovation Tom Godwin makes the point in a LinkedIn post that work isn't value, observing, "If we are brutally honest, for 99% of people in 99% of roles and in 99% of companies, the primary motivation for people is demonstrable busyness."
The most powerful communications and public relations programs are those that focus on business outcomes, not volume, reach or thought leadership:
"Ninjas aren't big on small talk. They are on a mission. Likewise with the communications and public relation strategies we develop and implement.  We create a singular, shared vision for our clients that helps energize their employees, drive customer acquisition and deliver business outcomes. No BS. Also, we wear black a lot because it's slimming."
Read more about communications and PR dangers to avoid: The Illusion of Thought Leadership
Ready to release your inner ninja and travel the prosperous path? Post a comment if you agree with these ninja marketing moves or if you have others to share.