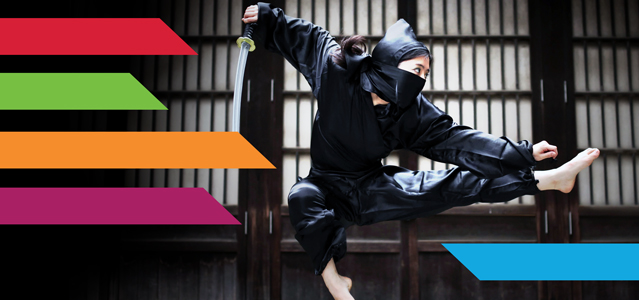 We've waited all year for International Ninja Day, and it's finally here! Get badass with these ninja skills to make your marketing worthy of legend.
Who cares if celebrating December 5 as the Day of the Ninja started from a parody website. Or that it helped promote a Tom Cruise samurai movie. It's still a day celebrating all things ninja. That's rad. Plus, we've been looking for an excuse to add "Ninja" to our job titles.
Now act cool, strike a tiger pose and soak it in. Ninja marketing wisdom all up in here. (You don't even have to read the Ninja Burger Honorable Employee Handbook.) We'll keep you focused by honing in on four key disciplines – events, creative, marketing and communications. Which just happen to be the core areas of our work at Lightspeed. Go figure.