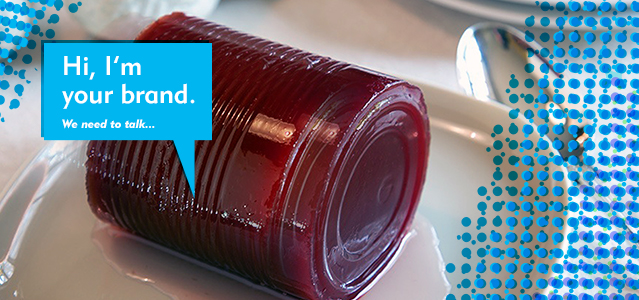 What's the main attraction on your holiday table? The cranberry jelly still shaped like the can from which it plopped? More likely it's the scene-stealing turkey or ham, cooked to perfection amid the holiday charlie foxtrot.
Now you can turn your brand from cold, can-molded jelly to a hot-and-tasty main dish. Just use these tips from a well-planned holiday menu: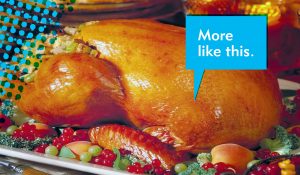 Even tried-and-true recipes can benefit from a refresh.
Wondering if your brand is as outdated as Aunt Betty's green bean casserole? Forbes notes at least Six Reasons Your Company May Need To Rebrand Itself, and the time might be right to refresh and reenergize yours.
Often, growth is a factor. MR Williams started 30 years ago as a convenience store supplier serving a 50-mile wide territory. They grew to become one of the top 50 distributors in the country. With this evolution, the company recognized their branding and marketing materials had to keep pace. What started out as a refresh of MR Williams' collateral pieces evolved to something more powerful. (More on that in a moment.)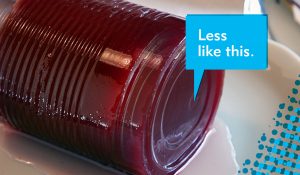 Plan a menu to make the whole family happy, and make sure everyone's on board with it.
The election is over, but you know there will be family drama. Especially during the holidays. Your Uncle is going to get shithoused and start an argument involving Trump. Make your peace with it. Instead, focus on something you can control and give everyone a chance to offer input to the holiday menu in advance. Then make clear what they can expect.
Likewise, when you undertake a brand refresh, ask your stakeholders for input. Work toward agreeing on the branding and business vision, and make the goal crystal clear. Interbrand's Senior Strategy Consultant Aarif Morbi, in The five factors of growth: Measures of a Breakthrough Brand, says breakthrough brands understand this:
"Great brands start from within. Organizations need to develop internal clarity, not only about what the brand stands for—its values, positioning, and proposition—but also about its target audiences and what drives them."
For MR Williams, the company's brand refresh exercise resulted in a true picture of what the company wanted to be. By clearly outlining the goals and defining the steps needed to accomplish them, MR Williams could move ahead with their branding refresh campaign with a unified vision.
Be thankful for what you bring to the table.
Channel your best Stuart Smalley impression from the '90s ("I'm Good Enough, I'm Smart Enough, and Doggone It, People Like Me!") and celebrate what makes your brand unique. In Leading brands wield words to thrive, Interbrand's Director of Verbal Identity Claire Falloon highlights the value of communicating what differentiates your brand:
"Brands at the top of their game know intimately what they can achieve when they… embed the value they offer deep in the minds, hearts, and lives of everyone they touch."
MR Williams, as part of their brand refresh, came away determined to develop a comprehensive marketing plan designed to highlight what makes the distributor stand out from their competition: a family-owned company with robust, proprietary technological resources.

The best cooks are consistent and authentic.
Whether you binge-watch Top Chef or Hell's Kitchen, you know the posers ultimately lose the prize. The same is true for brands.
Last week the Lightspeed team showed up in full force at Internet Summit 2016 in Raleigh. We heard session speaker Mackenzie Fogelson, Genuinely Founder and CEO, say, "It's not about the size of your marketing budget, it's about how you operate and your authenticity." Authenticity was the running theme among many of the speakers, who called for brands to be honest and transparent.
Stephan Gans, Interbrand's Chief Strategy Officer for North America, takes the point even further in Your Brand Can't Be Something You Are Not:
"In this environment, companies that over-focus on the differentiation of their brand are missing the bigger point: authenticity is the new differentiator."
An added benefit to defining your brand's "authentic purpose," Gans says, is the opportunity to engage employees in defining your brand and making it real for your customers.
That's what MR Williams is doing, in taking a holistic approach to their messaging, vision, and brand.
How about you? Post a comment to share what you think makes a brand powerfully authentic.
Learn more about how MR Williams is refreshing their brand with a unified vision.