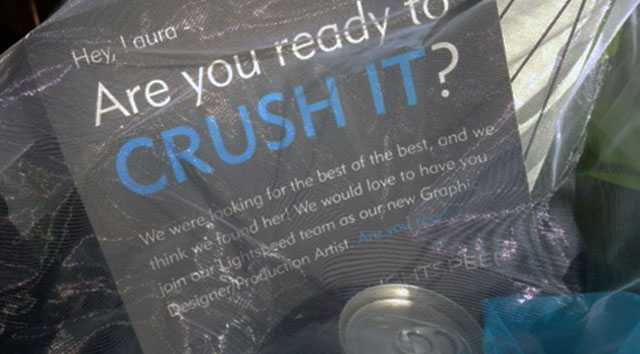 2 weeks ago Creative Director Erin Huckaba met with Lightspeed's newest family member, Laura Tanzini, at The Flying Saucer in Raleigh, NC to have dinner, drinks and officially offer her the job. The only person that didn't know about it was Laura. Coming to Lightspeed from Cubeville, Laura has been doing killer design work for over 8 years. Tradeshow displays to responsive web design – she does it all. Laura is highly involved in the local Raleigh chapter of AIGA and is "cool" enough to belong to a UX design book club.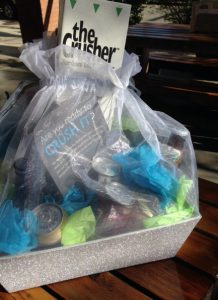 In addition to her love of design, Laura is obsessed with coffee; good coffee, bad coffee, she knows and loves it all. Her endless search for the perfect cup has taken her to such exotic locales as Spain, France and The Waffle House. Laura lives in the part of Garner, NC that is kind of Raleigh with her husband and rescue pug/terrier Seymour.
As a small company with a unique approach to business, it's imperative that we take our time to be sure it's a good fit before making our offer. When we do, it's something personal and inimitable. On this occasion, Erin handed Laura a gift basket full of Laura's favorite beer and a can crusher. Because Lightspeed's new Senior Graphic Designer, Laura Tanzini, is known for crushing it.