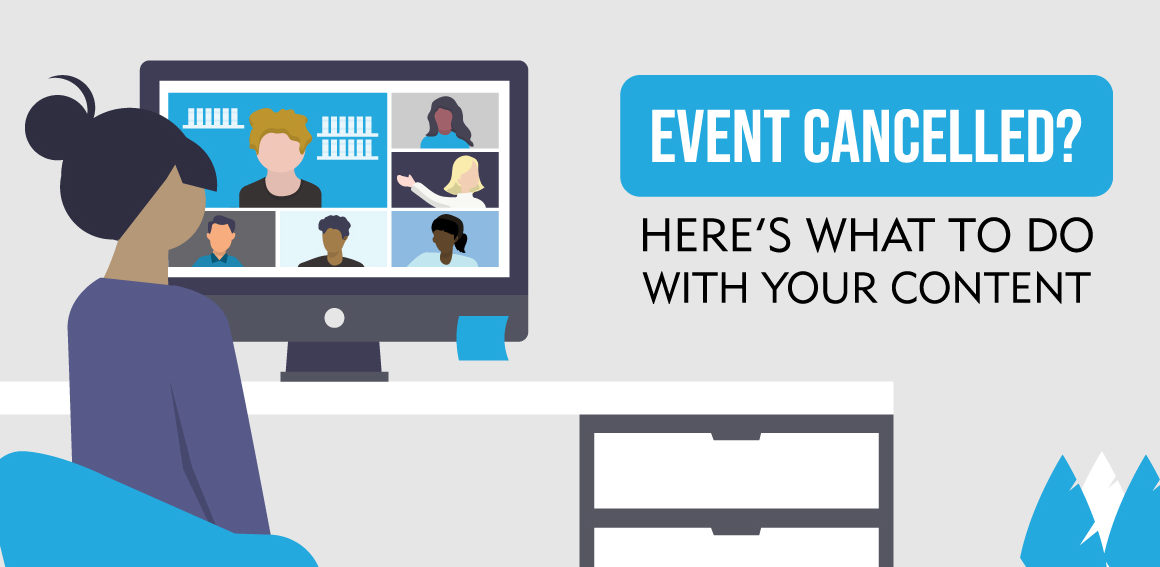 If you're like every other event planner on the planet, you've had to cancel or postpone an event because of the coronavirus. After saying your share of WTFs and considering all the other things to worry about, you might wonder if the time and effort you put into planning your event will go to waste.
It doesn't have to.
None of us can consume pandemic information 24/7 without losing it, so offering your customers a variety of content options, especially now, couldn't hurt. Just be sure to communicate in the context of what we're all dealing with.
Here's how to repurpose your event content and resources to keep them relevant and valuable to your audience.

Host a virtual event instead
Among all your options, a virtual event that lets your attendees join online is probably first to come to mind. Most of your B2B audience members are already using virtual meeting platforms like Cisco Webex and Microsoft Teams on a daily basis, so another virtual event won't be a stretch for them.
But virtual events don't just happen.
You still need to allot enough time to prep and coach your speakers for virtual events, since some will be less digitally savvy than others.
And if you think you can cobble together some online meeting platforms like Facebook Live and Zoom and, presto!, have a virtual town hall, ask Joe Biden's event planners how that went for them.
Virtual events require the same essential elements as in-person events. You still need the three elements of every project in the history of MBA and marketing curriculum – strategy, planning, and execution. For virtual events, that means:
The right strategy to understand your audience needs, choose the best approach and format, and articulate your goals.
Careful planning to ensure you have the talent, resources, and processes in place to anticipate and handle every detail.
Flawless execution to produce a seamless experience for your audience and deliver the results you want.
If you decide to go with a virtual event, the next decision is what type of platform to use. Don't worry, you've got this.

Virtual event platforms: which is right for you?
From our experience with producing virtual events for more than a decade, a solid strategy involves choosing from a set of four virtual event platform categories. Each has its own set of pros, cons, and considerations to weigh against your needs, your event focus, budget, and other realities you're facing.
We group those virtual event platforms like this:
Web-based video conferencing.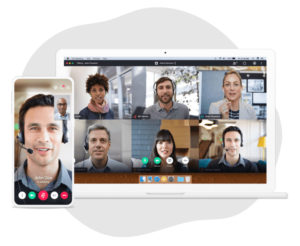 This option works well for large-scale, interactive events and also allows for small group breakouts.
Note: Platforms can handle up to 3,000 attendees on audio broadcast, and two-way dialogue for up to 100 people.
Examples: Webex Event Center, Zoom Webinar, and GoToWebinar.
Enterprise virtual event platform / environment.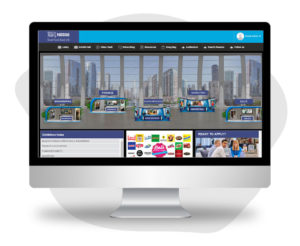 These platforms can handle a massive scale of more than 200,000 concurrent users, with plenty of audience engagement options.
Keep in mind: Building the content for all aspects of the virtual environment, such as the exhibit hall and theater sessions, involves some heavy lifting.
Examples: INXPO/ Intrado and vFairs.
Open platform streaming.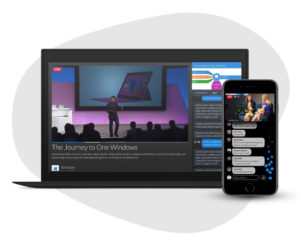 Your familiar social channels all offer options to reach a broad audience, and you can simulcast to multiple platforms.
Caution: Not good for talking about competitive information, since anyone can watch.
Examples: Facebook, YouTube, Instagram, Twitter, and LinkedIn.
Closed platform streaming.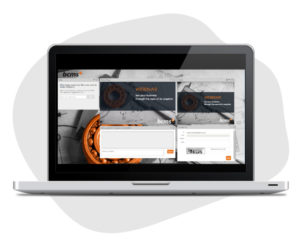 These platforms can be a nice option to reach a mass scale, but there's no two-way audio interaction.
On the plus side: Plenty of audience engagement options such as chat, Q&A, and polling.
Examples: IBM Enterprise Video Streaming (formerly Ustream), ON24, and Brightcove.

Case study: Customer advisory board goes virtual
The challenge:
One of our clients, a large B2B company, recently cancelled their in-person customer advisory board (CAB) event. The CAB serves as a sounding board for ideas and feedback to help guide company direction.
Program success is dependent on having regular, candid discussions with advisory board members, who normally travel from far-flung locations to meet in person.
We helped the company evaluate other options to continue those important discussions with their CAB members who, like all of us, are working from home, under shelter-in-place orders, or experiencing other aspects of work/life during a pandemic.
The solution:
For this company's CAB program, the winning option is a virtual event using a robust video conference platform allowing two-way video, dialogue, and interaction between the speakers and customers.
The agenda will be broken up by topic area over the course of three days, with each topic session no more than 90 minutes. Attendees can register for the sessions that interest them most, and the platform's polling, chat, and Q&A features encourage interactive discussion.
This approach gives the ability to continue quarterly CAB engagements, virtually, with both the company and its customers benefiting from the free-flow of ideas and feedback.
Results:
We're really good, but we're not time travelers. We'll have the results after the virtual event happens.

Use your scheduled speakers in other ways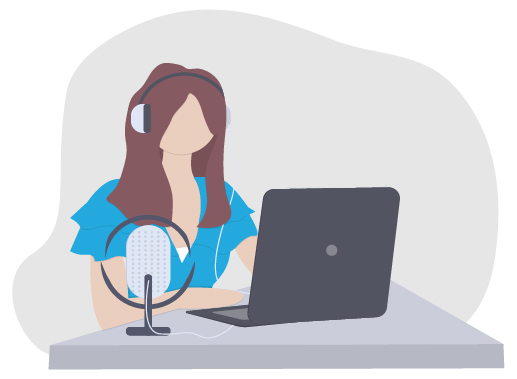 Your speakers are experts, visionaries, entertainers, and motivators. If you've put the time and money into sourcing the best speaker talent, they're all of those things. With some extra time, effort, and creativity, you can make the most of the speakers you've already secured for your event.
Consider these ways to share your speakers' brilliance, depending on the size of your audience and the way they like to consume content:
Feature your speakers on videoconferences, webinars, and podcasts. You can record them individually, or as a panel, live and/or recorded for playback.
Your speakers can provide savvy quotes or recorded video messages that you can share on your social media sites.
Ask your speakers to write guest blogs, or interview them and write your own blog incorporating their pearls of wisdom.
Record their presentations for on-demand videos, which can become part of your online learning offerings.
Interview a speaker with open platform streaming such as Facebook Live, taking online questions from your audience.
Promote any or all of this repurposed content through your social accounts, emails, and newsletters.
Not all speakers use PowerPoint presentations (bless them), but if yours do, we've got options for those, too.

Repurpose your PowerPoint presentations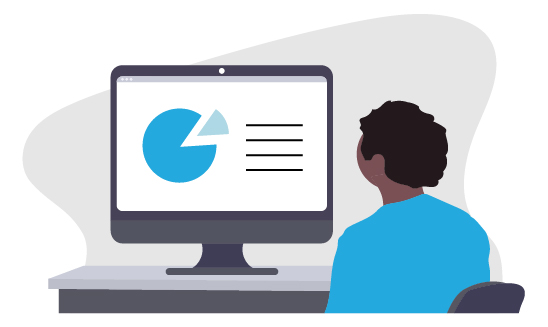 Your presentations were going to be worthy of your audience's time in a live event, right? So don't let all that slideware collect dust now, waiting for your next in-person gathering. Whenever that will be.
Get mileage from your presentations now by using takeaways to write blog posts. Or include ideas and images from your presentations in your email newsletter or on your social channels.
If your PowerPoint decks are complete, share them on SlideShare or as downloads from your website.
Even if a presentation wasn't fully baked before your event was cancelled, you can use data, charts, and graphics from your speaker presentations to create a visually stunning and thought-provoking infographic. Or convert them into a series of social posts.
Remember the webinars and videoconferences we mentioned for your speakers? Ta-da! Go ahead and use some of your PowerPoint slides for those, too. Just keep the number of slides to a minimum. While you do have a captive work-from-home audience now, they could always go watch 24/7 pandemic coverage instead.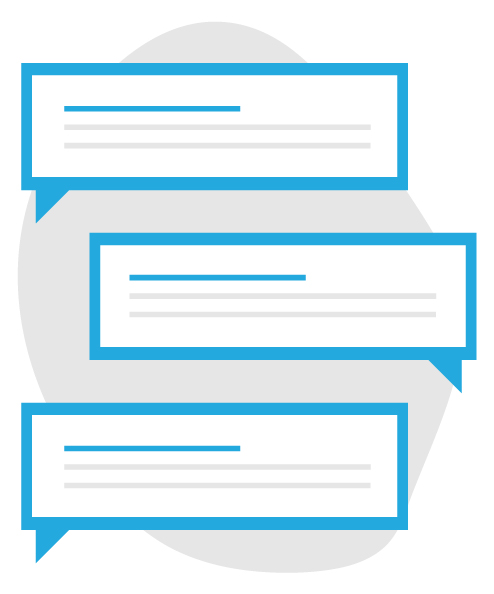 Keep the conversation going
No matter how long you've been working with events, you know they aren't meant to be one-offs. Events, when done right, start new topics of conversation that your customers want to continue having with you.
Making digital connections isn't the same as being face-to-face at an event, but those connections can be worthwhile and valuable for both you and your audience. Especially when you make your call-to-action count for each piece of content.
By offering content that is relevant, in context of current events, and focused on your customers' needs, your audience will look forward to reconnecting with you in person after the all-clear sounds.
These are crazy times, and we want to help make your marketing decisions easier. Let's talk about how to repurpose and refocus your content and communications, including through virtual events. Contact us at info@lightspeedmarketing.com. 
Related: