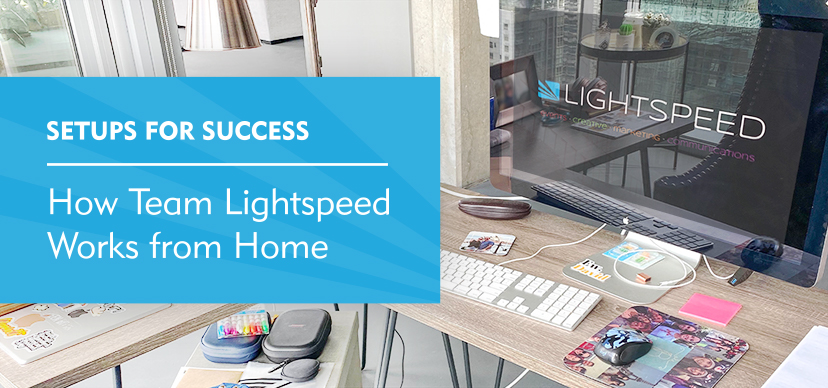 Team Lightspeed has always been a remotely connected crew. We communicate constantly through Slack and our project management tools, via regular team video calls, onsite at client events, and a few times a year at team retreats to continue to improve our processes and workflow. For those of you who are new to the work from home or remote environment, our crew is here to share some of the most valuable things we've learned to make our work time productive and keep our team connected.
Read on for ideas to set up your workspace in a way that's optimal for that work hard-replenish your creative energy source-get back at it to crush another project-life. Take a peek into the offices of the Lightspeed team and mine our setups to set yourself up for success with real #workfromhome life in mind.
---
DEDICATED WORKSPACE
Create your own station where you can produce your best work.
This might be a full home office, or your own corner of a room, but committing to crafting dedicated space, particularly if it's in your home where you live the rest of your non-work life, is crucial to making your work time focused and productive.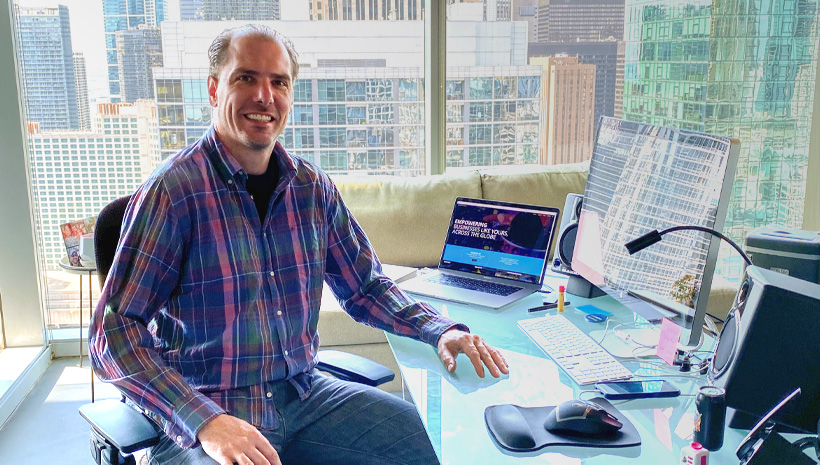 "One of the pitfalls of working from home is losing the balance and physical separation between work and life. I've been working from home for 15+ years and over that time I've learned to not allow my work to spill out of my home office. I treat my home office just as if it were a physical space outside my home. For me, keeping work confined to my home office and not working from other places within my home helps create much needed separation and balance between work and life."
– Rob, Lightspeed Managing Director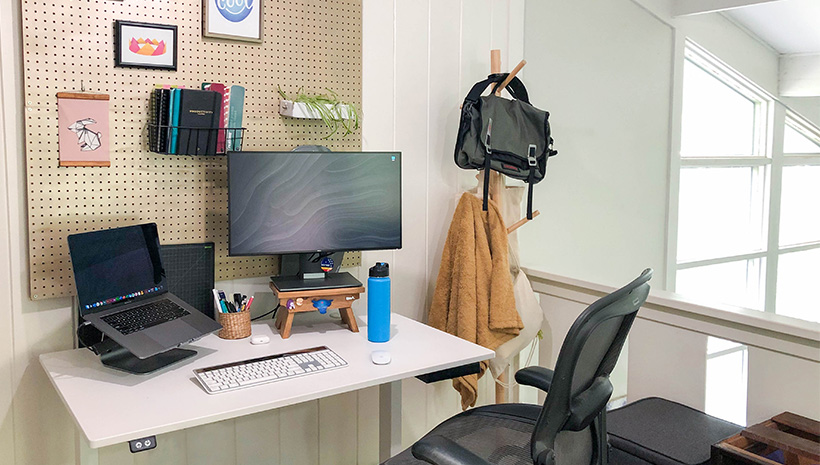 "Most of the time I work upstairs in the loft of my home. I like that it's a separate dedicated space but still open so I don't feel shut in and I get tons of light!"
– Jen, Sr. Graphic Designer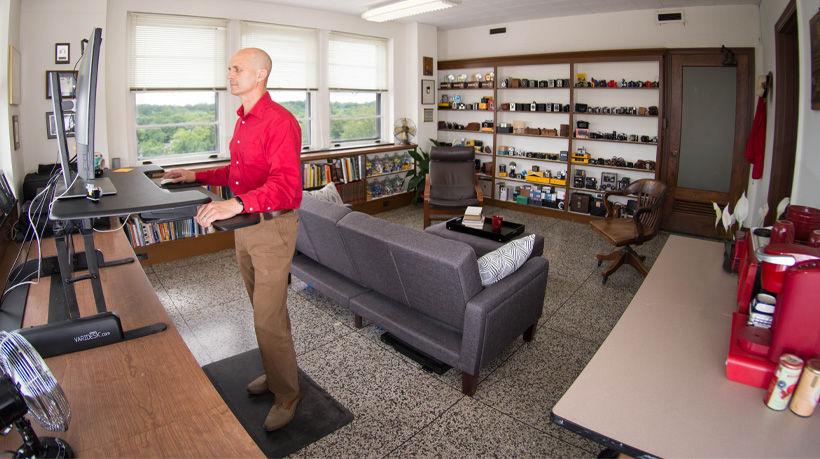 "I've worked remotely for the past 20 years. My offices have ranged from a corner of the kitchen (not good) to an external storage closest (actually not that bad) to spare bedrooms. Now with two small kids in the home we are out of bedrooms so working in my home isn't really a productive option. Rental office space is very affordable in my area, so I went that route. It has allowed me to be able to really focus. In a pinch I can work from home if necessary, but for me dedicated space that I can make my own is crucial."
– Todd, Data Manager
---
CLEAR YOUR MIND
In defense of the minimalist workspace.
We all work differently, but for most of us, having a clear station helps us focus on the most important work of the day.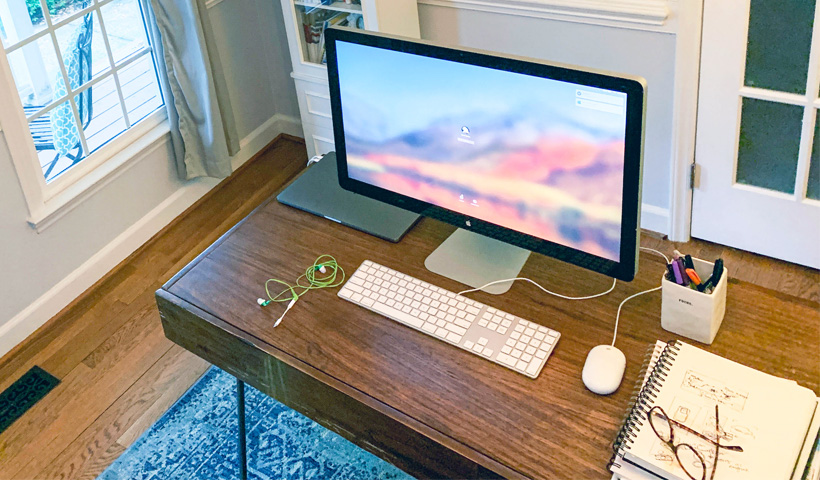 "I'm actually pretty minimalist with my workspace – I've found over the years that no fuss is my working style. I don't like a lot of extra things on my workspace – I need less distractions. Especially with having two little destruction monsters (my children) – I joke that I can't have nice things – but truly my workspace has evolved with them in mind. My office is filled with things that drive inspiration and also make me happy."
– Erin, Creative Director
---
CRAFT YOUR VIEW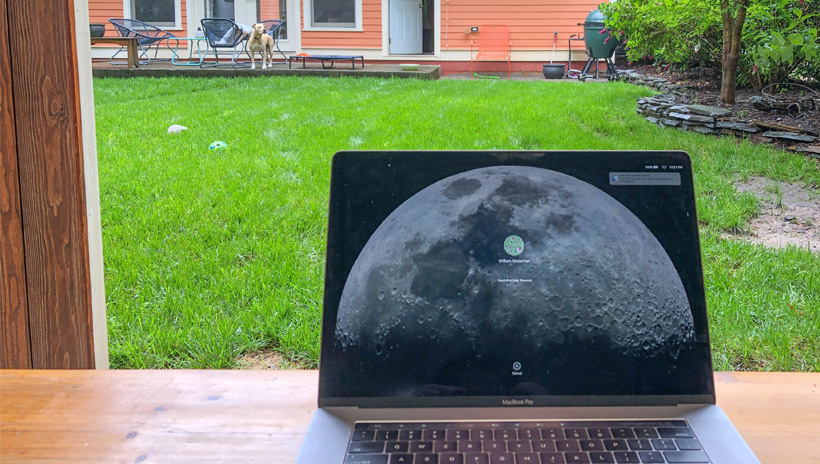 Set yourself up with an excellent view beyond your immediate work station of the outdoors, your neighborhood, a city view, or some of your favorite artwork. Give your eyes a break to help alleviate strain and keep your energy up through the workday by refocusing beyond your screens from time to time.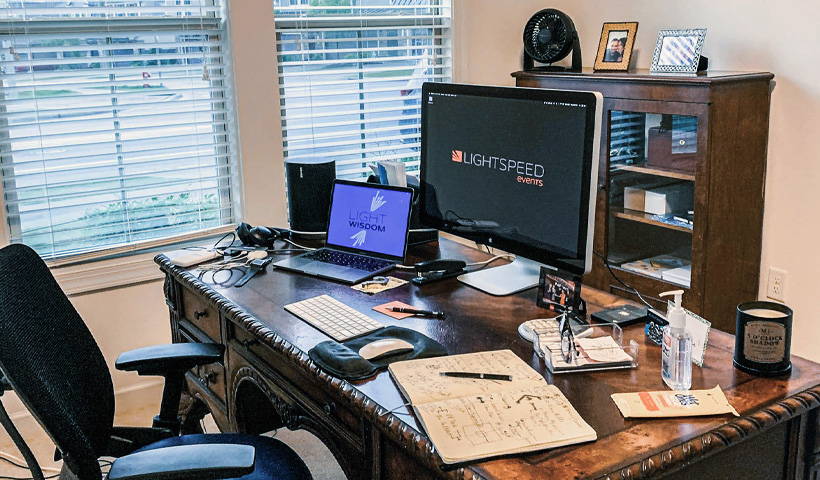 "My primary work environment is located in the front room of my residence. This allows for ample light and a view of the outside world. It is also the place where our one-year old mini Australian Shepherd does her turn around while doing her indoor wind sprints – which occur many times a day!"
– Bryan, Head of Events & Registration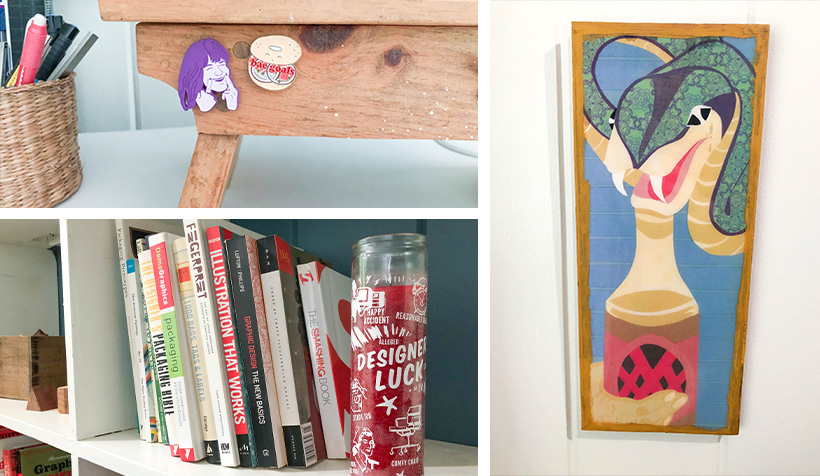 "My office shelves are full of things that make me happy as well my design and art books. Lots of the items on my shelves are mementos from trips, things I had in my childhood bedroom that I still love, and art that I have collected from markets."
– Jen, Sr. Graphic Designer
---
FLEXIBLE WORKSPACE
Relocating your workspace a couple of times a day can be a tool to help your brain switch between task types, or give you a new perspective on a current project.

"Because my home office is under construction and my two younger kids, who are ALWAYS home now, set-up their workspaces for their virtual school experience in the common areas of the house (gotta keep my eyes on those buggers), I've had to get creative with my workspace. Sometimes, when my college-aged daughter isn't home, I set my stuff up on the desk in her room. Other times, I work in my "mobile" office, which I LOVE!  Both of these spaces meet my requirements for a productive work environment which are: an adequate-sized desk-height surface, comfortable seat/chair, a door that I can close to keep outside sounds and distractions out, natural light, and a good wi-fi connection."
– Suzanne, Account Manager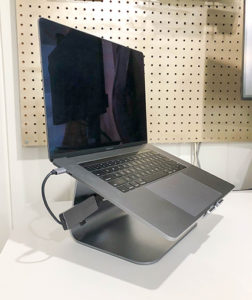 And don't forget to check your angles. Consider your ergonomics when setting up your remote workspace. Raising your screens so you're not craning your neck up or down alleviates strain and keeps your energy up by helping you maintain better posture. A good rule of thumb is to boost them to where the middle of your screen is at eye level. Switching up your position from sitting to standing at a kitchen counter or investing in a raising desk converter that sits on top of your work station throughout the day can also help with your stamina and focus.
"I need both my laptop and monitor screen real estate when I work. Having my laptop raised so it is closer to eye level is a super saver for my back."
– Jen, Sr. Graphic Designer
---
TOOLS
Our digital devices and accessories are crucial tools, and we all have our favorites. Tune into our Lightspeed Instagram for more deep dives into team member tools and gadgets.
Outfitting your workspace with good task, ambient lighting and a couple of living things (don't worry, cacti or low light plants are here for you if green thumb isn't on your resumé) creates a focused and energetic vibe.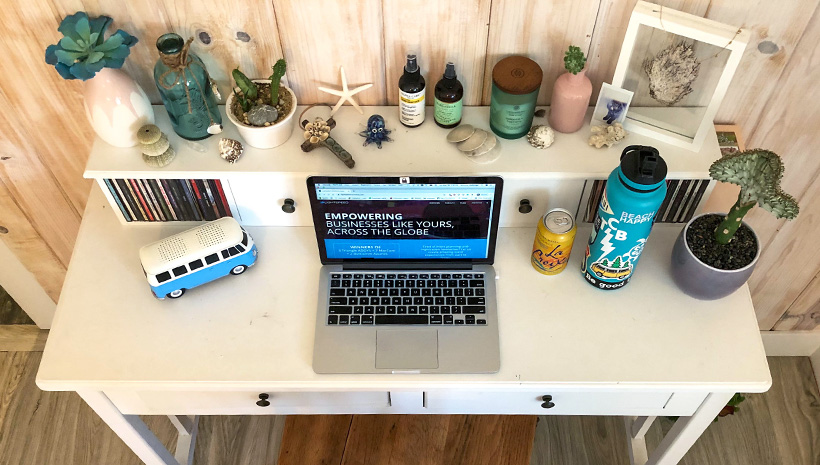 "My primary workspace is a small room in our house that we dedicated as my office. It has great natural light which is a good mood booster/stabilizer for me, and gets a strong wi-fi signal."
– Suzanne, Account Manager
---
BREAK IT UP
Making time for regular breaks to go on a walk, make a real lunch, or have a digital time out can light a fresh fire under your productivity or creative problem solving when you reengage.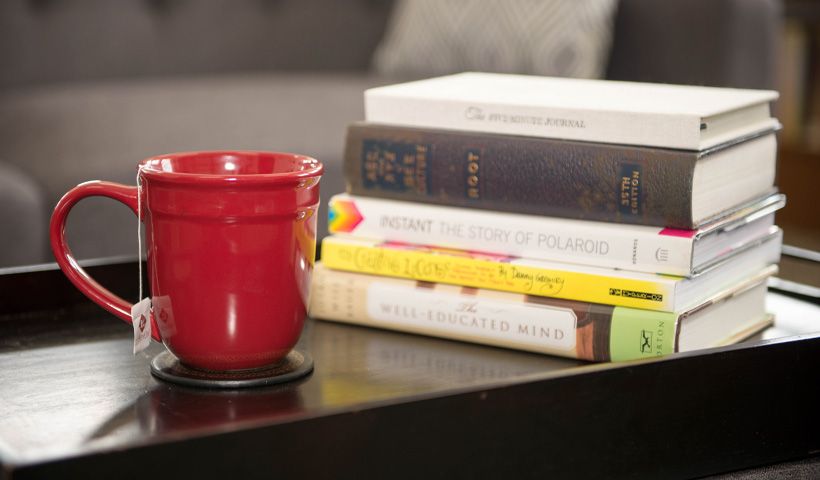 "I make a point to not eat lunch at my desk to give my brain a break. If I wasn't able to get a work-out in in the morning, I try to get out for a walk mid to late afternoon. I also try to meditate for at least 10 minutes each afternoon to clear my head."
– Todd, Data Manager
---
WRAP IT UP
Closing out your work time for the day when working from home ensures you get the adequate recuperation time needed to replenish your energy to crush again another day. 
I will take conference calls during the prep phase of dinner if I need to participate on team or client calls that originate from the West Coast. Once the food preparation is done, I will move back to the home office to complete the call, wrap up my day and move on to family time."

– Bryan, Head of Events & Registration