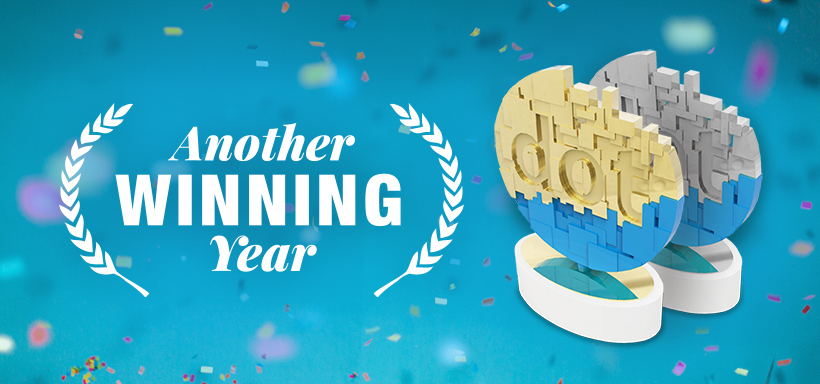 If you've watched The Late Late Show with James Corden, you might have caught the recurring audience game None of the Above. The name of the game is also the correct answer to the question Corden asks after he shows a video clip.
Let's try our own version. Choose the correct answer for the following:
Peer-recognition awards are…,
Nothing to brag about
More important than client recognition
Something clients don't care about
None of the above (Hint: Remember the game's name.)
Easy, right? Now let's turn those wrong answers into the right ones…
Platinum and Gold Awards give us bragging rights
This is no humblebrag. We're straight-out basking in the spotlight for winning two 2018 dotCOMM Awards for our video marketing work.

The international dotCOMM competition, administered and judged by the Association of Marketing and Communication Professionals (AMCP), honors excellence in web creativity and digital communication.
Winning a dotCOMM award tells employers, clients, prospects and competitors that the winner's web and digital work exceeds a high standard of excellence, serves as a benchmark for the industry and is honored by our peers.
Team Lightspeed's two dotCOMM awards – one Platinum, one Gold – come on the heels of winning five honors in the 2017 MarCom Awards, which is another AMCP-judged competition for creative work in the marketing and communication industry.
In the dotCOMM Awards 2018 competition, judges reviewed more than 2,000 entries from throughout the United States and several other countries. We're proud to be selected as experts in producing creative videos and, yeah, we're bragging about it.
Our clients are more important than any awards
That's a no-brainer. Awards give us a morale boost, sure. But happy clients who say we understand their business and produce the results they want? Priceless. They're why we do what we do.
The real beauty of receiving recognition like the dotComm Awards is this: These are shared wins with our clients. Our client relationships are partnerships that produce creative, award-worthy work and the outcomes our clients expect.
The dotComm Awards we won this year are shining examples that the best results come from being tuned in to the client's brand, mission and objectives.
Here's how…
Platinum dotComm Award
Lightspeed Marketing Communications – American Heart Association – Triangle Go Red For Women Survivor Impact Video
Category: Video for the Web (Nonprofit)
The Triangle (Raleigh/Durham/Chapel Hill) Chapter of the American Heart Association asked us to produce a 2018 survivor story video for their Go Red For Women campaign. The project also included creative branding and design of the digital and print communications leading up to the AHA Go Red Luncheon, and digital signage and presentations the day of the event.
Members of Team Lightspeed have lost family members to heart disease, so you'll understand this project strikes especially close to home for us.
We were proud to partner with the AHA and the team at Drawbridge Media for the second consecutive year to plan, produce, direct and film the survivor video – from initial concept planning to final editing, and everything in between.

This work built on the impact made by the 2017 survivor story video we produced for the AHA Triangle Chapter's fundraising and awareness efforts. That video won a MarCom Gold Award last year, making us especially honored for the work we've done with the American Heart Association.
Gold dotComm Award
Lightspeed Marketing Communications – Palo Alto Networks CYBERFORCE Member Promotional + Recruitment Campaign Videos
Category: Video for the Web (Internal Promotion)
A good software engineer can rack up some impressive stats. Technical capabilities, certifications and all-important performance numbers for winning sales deals.
But a list of credentials on a page doesn't paint a true picture of the elite group of highly trained Palo Alto Networks partner software engineers (PSEs).
For that, we used the power of creative video with live footage, custom graphics and animation, produced with our strategic partners at Drawbridge Media.
We created a series of spotlight videos profiling the achievements of PSEs participating in Palo Alto Networks' CYBERFORCE recognition program. Think of NFL player introduction videos with a fun mix of sci-fi tech, James Bond swagger and Mission: Impossible intensity. (In other words, know your audience.)
The videos promote CYBERFORCE members and their credentials on social media, at events and across Palo Alto Networks campus locations. We also designed the videos to make an established program feel new again, as part of the larger and ongoing CYBERFORCE branding and engagement project that brought home two MarCom Awards last year.
Clients benefit from working with an award-winning agency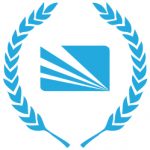 Why should clients care if their marketing agency wins some shiny trophies? Because the awards represent much more, including:
the creativity and care we put into helping our clients achieve their goals,
the strong ecosystem of partners we've put in place to ensure our client's success, and,
the relationships we have with our clients to deliver a personalized customer experience.
Our clients want to work with creative problem-solvers who love what we do. And what we love to do is create amazing things with and for our clients.
Special shout-outs to Drawbridge Media, Lightspeed Creative Director Erin Huckaba and Lightspeed Senior Graphic Designer Jennifer Healy. You all rock!
We produce award-winning videos that connect audiences to your brand. Let's talk about how to make the most impact with your video marketing. Contact us at info@lightspeedmarketing.com.